Adventure
Unique self-propelled, guided adventures by sea-kayak and mountain bike
While all our Wildlife and Fishing Packages are active holidays, our specific Adventure Package is designed for guests who may wish to explore the Broughton Island Archipelago and Great Bear Rainforest using various means of self-propulsion! Our Adventure Package incorporates some of the same elements as our Wildlife Package with the addition of options to explore by sea kayak or mountain bike.
Kayaking
Blessed with some of the best sea kayaking in British Columbia, Farewell Harbour Lodge offers guests the opportunity to jump in one of our steady, stable double sea kayaks and paddle on our azure blue waters. All of our excursions are guided by a professional sea-kayak guides.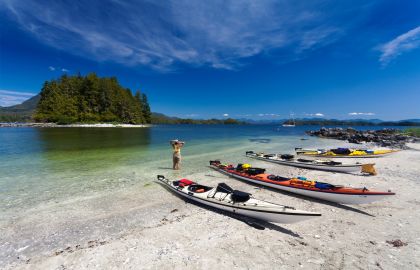 You will have the opportunity to paddle in Orca and Humpback Whale waters and glide silently as you listen to their blows or drop our hydrophone and listen to their wondrous vocalizations. Or explore the many sheltered, hidden coves and white shell-midden beaches that abound in the local waters. As you glide along silently in the clear water at low tide, you'll marvel at how much of the fascinating intertidal life is accessible to your senses. The best part of sea-kayaking at Farewell Harbour Lodge is not having to 'rough it' - that the creature comforts of the lodge are always only a stone's throw away. Retreat back to the lodge after a day or half-day of exploration and soak in our hot tub, enjoy a sumptuous appetizer along with a glass of premium BC wine and know that a real bed and a soft, thick duvet awaits you at the end of it all!
Mountain Biking
Mountain biking in Farewell Harbour Lodge style means putting our state-of-the-art full suspension steeds on the boat and travelling to one of the de-activated back-country logging roads for a true wilderness adventure. We have dedicated routes that take us past remote lakes and spectacular sub-alpine meadows with jaw dropping vistas. Get dropped off by boat in the morning with your seasoned adventure guide, your bikes, a bag lunch and plenty of water and head off for a unique cruise into the wilderness. Come full circle or go point to point and get picked up by boat by our staff in the afternoon. What a cool way to experience the Great Bear Rainforest!
Our Adventure Packages run 4-7 days and can be combined with our Wildlife or Fishing packages to get the full adventure immersion with a healthy dose of self-propulsion!
Our Adventure Packages run from mid May to mid October.
For more detailed program and pricing information, please contact our reservations office.